Tell us about your Maritime lighting needs and we'll work with you to find the perfect solution
Midstream Maritime Solutions – at a glance:
Our solutions allow crane operators to work efficiently and safely in all areas of the port. And mean personnel, traffic, and visitors can find their way around safely and easily – vital at night or during poor weather conditions.
We focus on quality, reliability, and power use. And take into account things like:
Light distribution versus energy consumption.
Light pollution.
Size of fittings and accessories.
Luminaire lifetime and the need for low maintenance.
The security benefits of improved lighting.
Product durability. Ours is trusted and tested.
Our expertise is unrivalled
Our vast global knowledge, expertise, proven record of success across the maritime sector, in all locations, and climates is second to none.
Thanks to our expert in-house Design and Engineering teams, we create and deliver fully compliant, custom-made maritime LED lighting solutions. And we do it on-time, within budget and with a superior level of energy efficiency – anywhere in the world.
And our solutions deliver sustainable, energy-saving lighting systems that meet the demanding operational, legal, and regulatory, needs of port and maritime clients.
Designing industry-leading solutions – for your needs
Unlike other 'specialist' lighting companies, we truly deliver full solutions for your individual needs. From day one to the final sign-off of your maritime project and beyond, we can and do take care of everything.
Our experienced teams have the deepest level of knowledge and combined expertise in the industry. They design, develop, and deliver innovative, maritime-specific, high power LED lighting products.
And when it comes to industry regulations or local governmental requirements, they know and meet what's needed.
We deliver quality solutions that give you more, for less
Lighting design
We get it right the first time, every time. We provide expert lighting design services right from the start of a project – free of charge. Even if your requirements change as the project develops, we'll be there to assist and support you.
Maintenance and warranty
No hassle and no wasted time. To make sure your installation goes smoothly, our expert engineers and supervisors can be with you from start to finish. Our installation teams have years of experience across all our sectors. So, whatever the installation needs, they'll be able to support you at every stage.
Installation
Protecting your investment. The great thing about LED lighting is it needs far less maintenance. It's important though that you protect your investment to maximise the lifespan and return on investment. This is especially true in the humid environments of the maritime sector. So, our Lighting Warranty lasts for 10 years!
And we go that extra mile
Training and Education – getting your team up to speed
Our experienced team is on hand to support you. Whether a partner, client, consultant, or engineer, we've got your back. We offer a range of training and educational courses to support both our product and sector partners. From technical training on our product range to installation guidance and beyond, we'll be there for you.
Advising and consulting – let us help you make the right choice.
We've got many years of in-depth experience across the maritime sector, and a very experienced management and advisory team. We can support, advise, and consult anytime. Whether for a completely new project or to look at existing solutions, just let us know.
Financing – from launch to delivery.
We can provide you with project financing solutions for your lighting projects. Through our approved financing plans we can help you to manage budgetary concerns and hurdles. We can even submit rebate and incentive applications on your behalf, to simplify the process for your project team!
From reducing cost to enhancing efficiency, we'll work with you every step of the way to make your vision a reality. Trust our experts to provide the perfect solution for your needs.
Specialised high-mast lighting for ports and terminals
Good quality, reliable illumination helps guarantee successful operations. And our high-mast port and terminal lighting deliver the lighting essential to the safety, security, and smooth operation of all port and terminal operations.
That's why we're trusted by the world's busiest ports and terminals to design and deliver sustainable lighting systems. Systems that meet demanding legal, regulatory, and operational maritime requirements.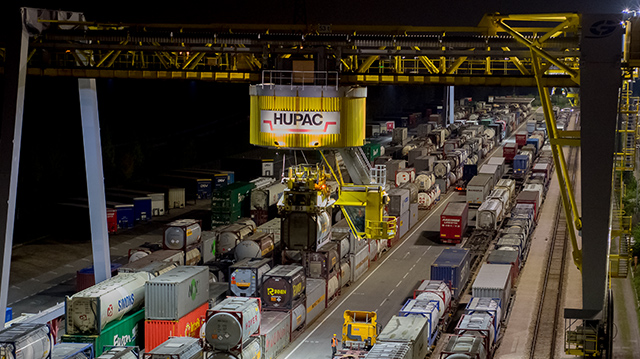 Due to vibrations and harsh weather conditions, much higher requirements are imposed on crane lighting than on lighting in ports and terminals. So, designing lighting maritime crane solutions requires a very specific knowledge of LED lighting – knowledge we have above all others.
Our Docker series excels in delivering the highest performance and durability. Built for specifically for maritime crane equipment, it's a heavy-duty LED floodlight system. And is manufactured to resist the harshest environments for applications, and other terminal equipment, that need the performance and durability it gives.
Our crane lighting applications – an overview
Whatever your need, from a retrofit project to a completely new one, look no further.
RTG Cranes
Maximise visibility, increase productivity
The Docker's wide range of optics makes it the perfect luminaire solution for any size of container stacker cranes.
STS Cranes
A new standard in safety
Midstream can provide bespoke lighting layouts for each type of crane, using the Docker's optimum optic to lower glare, increase uniformity, and avoid any dark spots on the ground.
Mobile Harbour Cranes
Built to last
A sturdy stainless steel chassis and four-point locking brackets ensure the Docker's precision light beam can be aimed to provide safe illuminance levels surrounding the crane, while symmetrical optical beams highlight the cargo handling area.
MARITIME PROJECTS
We're proud to work with ports of all sizes, all over the world. Some of our latest projects include:
Aarhus Port
APMT (Framework Supplier)
Belawan Terminal
Hupac Terminals
Intermodal Terminal Venice
Trieste Intermodal Terminal
Port of Casablanca
Port of Mohammedia
Remarail Terminal
Lyondell Basell
Reimerswaal Shipbuilding
Waalhaven Terminal
Zenith Terminal
Smålandshamnar AB
AB Ports (Mulitple Sites)
Port of Yuzhniy
Port of Felixstowe
Port of Tyne
PNCT, Port of New York
Port of Los Angeles
Port of Long Beach
Port of Virginia
PD Ports UK
Cairnryan Port
Port of Piteå
Port of Halmstad
Port of Varberg
Port of Visby
Port of Oskarshamn
Port of Ystad
Port of Luleå
Port of Oxelösund
MARITIME BLOGS
Read our latest Maritime Blogs:
Want to know more?
For a more in-depth view on our Maritime expertise contact us below:
All the fields marked with an asterisk (*) are mandatory.