Chelmsford Sport and Athletics Centre
Offering a synthetic all-weather 400m running track in addition to a wide range of field event and indoor athletics facilities, Chelmsford Sport and Athletics Centre also plays host to the Melbourne Stadium – a 1,300 seater arena that serves as the home of the city's semi-professional football team.
£1.5k - £3.5K
Annual Maintenance Cost Savings Cost Savings
42
Modus S1100 LED floodlights
Like-for-like leaves little room for improvement
From better quality and uniformity through to lower running costs, all kinds of issues can prompt an organisation to make the leap to a modern lighting system. Not all reasons are as visible as each other though, and certain factors can be harder to spot within the bigger picture – things like maintenance costs and environmental responsibility amongst them.
For Chelmsford Sports and Athletics Centre, it was those exact considerations that forced a fundamental rethink in its lighting plans. With the venue's existing metal halide system beginning to fail, funding had been secured to deliver a like-for-like replacement. Conscious that an identical system would be just as demanding in terms of power consumption and ongoing upkeep, the centre opted to explore its alternatives.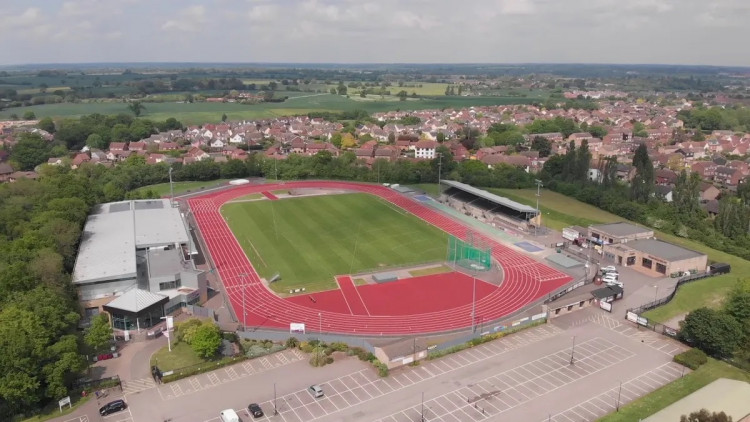 Dual-purpose design delivers where it counts
Having learned of Midstream through England Athletics, Chelmsford invited the company to create a more efficient, LED-based solution to its lighting needs. As well as meeting the lux and uniformity requirements outlined by England Athletics, any proposal would also need to fulfil the Football Association's criteria for play at National League level, with Chelmsford City F.C. playing their home games on a pitch centred within the running track.
Ever keen to keep client costs to a minimum, the Midstream design team retained the centre's existing masts and switching systems. Crucially, it was also able to reduce the total number of luminaires from 54 to 42 thanks to the power of the Modus S1100s. As a result, Chelmsford now enjoys high quality – and energy efficient – lighting across both the track and pitch, with the ability to save more money by illuminating each area independently.
With energy related running costs reduced by at least 60%, and annual savings on maintenance that run into the thousands, the centre now has a truly future-ready system – one that could realise a return on investment in as little as three years.
Key achievements:
Energy-related running costs cut by 60%.
Maintenance cost savings of between £1,500 – £3,500 per year.
System supports Chelmsford City Council's ambition for carbon neutrality by 2030.
"There's no more praying that the system will turn on in time for an event, and no need to keep calling someone out to replace blown bulbs. Midstream has turned something that was a consistent headache into a reliable and environmentally responsible asset."
Justin Hubbard, Centre Manager, Chelmsford Sport and Athletics Centre
All the fields marked with an asterisk (*) are mandatory.