A future-proofed lighting solution to keep the game in play.
Whether it's a Thursday night practice for the 1st team, or an U11's after-school try-out, the right lighting matters in the fast-paced game of hockey. But with spiralling energy prices, maintaining on-pitch visibility while reducing costs can be a significant challenge.
Sevenoaks Hockey Club was looking for a modern replacement for its outdated metal halide floodlights – to bring down energy and maintenance costs, and provide a long-term lighting solution to meet its current and future needs. It also had to meet local planning restrictions and tackle light spill to avoid potential objections from near neighbours.
Products and services provided:
Manufacture and installation of 32 Modus S1100 luminaires.
Support with club's planning application.
Wireless dimming system for increased uniformity and lower output.
Replacement of existing mast infrastructure.
Key achievements:
Successful planning application process.
Addressed light spill issues for near neighbours.
Lower maintenance costs and 50% reduction in energy use.
Installation conducted off-season and around restrictions to avoid disruption.
International Hockey Federation (FIH) certified lighting to class standard 1.
Working together to overcome hurdles and deliver substantial energy savings
As the official lighting partner of Great Britain and England Hockey – as well as being International Hockey Federation (FIH) certified – Midstream Lighting was on hand to help.
Midstream replaced the old columns and fittings with new masts and Modus S1100 LED luminaries to achieve FIH-certified lighting to class standard 1. This was completed out of season to minimise impact on match schedules, and the install team worked around on-site time restrictions to keep the club's residential neighbours happy. Plus, Midstream's lighter and more compact fitting made it possible to reuse existing mast foundations to further reduce costs.
With its Midstream lighting solution delivering 500 Lux levels with increased cost and energy efficiency, Sevenoaks Hockey Club can look forward to a shining season of success.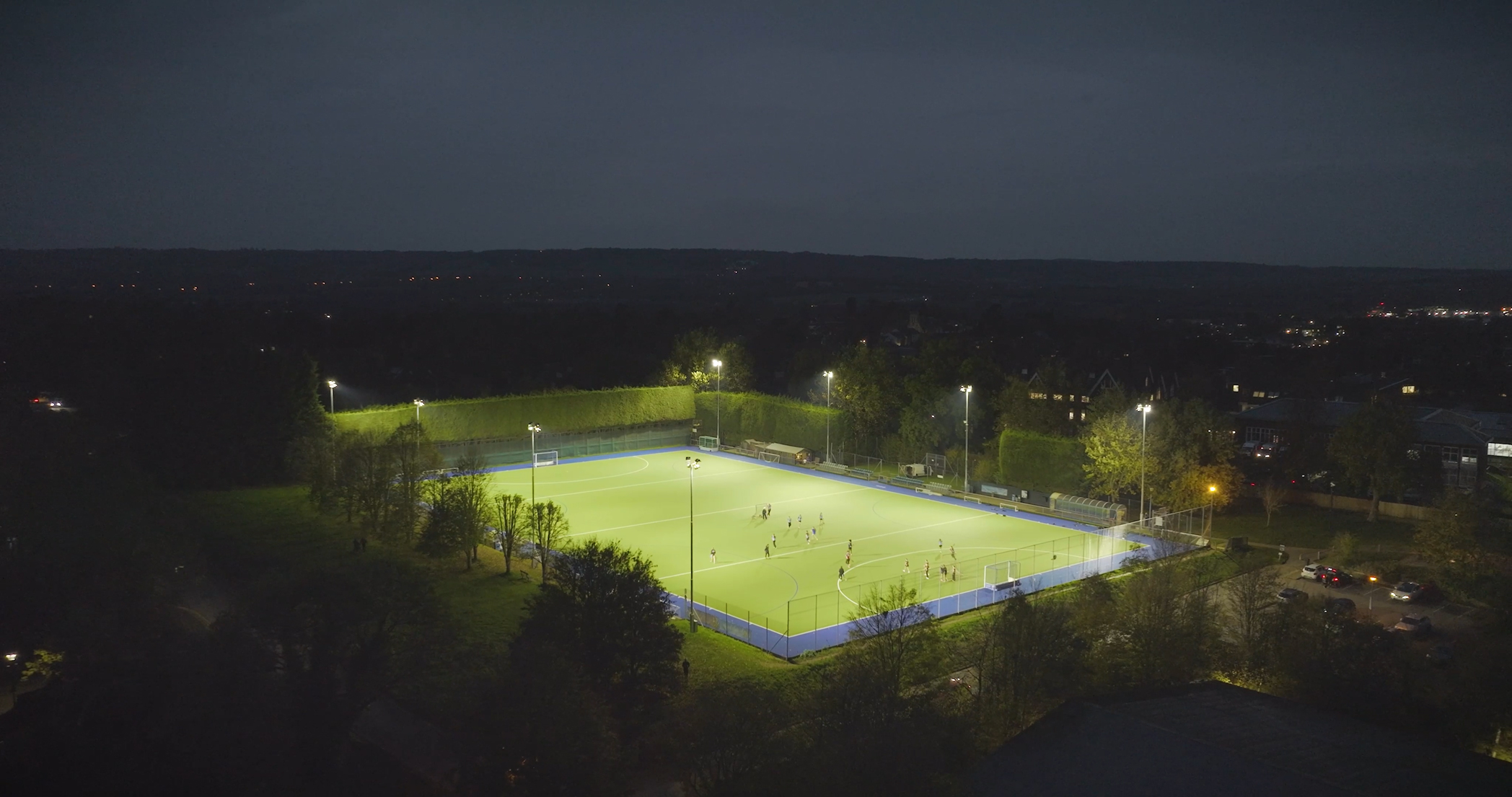 "The brightness and clarity are incredible. The lights are better quality and cheaper to run, and if we're savings electricity, we're saving the environment - which is so important today. The difference is night and day. "
Lynn Dawson, Sevenoaks Hockey Club
Can we help you with your hockey lighting project? Get in touch.
Contact us
All the fields marked with an asterisk (*) are mandatory.
Our Modus S Series benefits at a glance:
The Modus S is built for small to medium-sized sports applications and it offers high lumen packages with minimum weight. It reduces the number of floodlights needed per mast at the most competitive price. It can be used for both retrofit and new builds and meets industry all industry standards and specifications across the applications it's used for.
The Series is designed with specialty light shields to provide high uniformity for sports fields and facilities as well as to specifically reduce light spill
for local neighbours and residents – an ideal solution for areas such as community and inner-city facilities
It features a proprietary light engine that delivers up to 30% higher efficiency compared to other series.
The two-module configuration design allows the use of multiple optics to optimize the light beam for each field type and installation height.
It's equipped with a single remote driver for flexible installation and weight saving.
It's also manufactured with a reversible angled bracket that allows for a seamless retrofit on existing masts, in both overhang and underhung configuration.
The Modus S Series has designed to support wireless control.
Because it's manufactured with a stainless steel construction, the structural integrity and life of the product are extremely robust and reliable – a critical need when used across sporting environments.
Our exclusive, patented optics deliver full compliance to spill light regulations too.
The Series is also IP67 Rated.
Helping hockey clubs hit their goals
Great lighting, every time. As the first ever lighting provider to join the International Hockey Federation's (FIH) Quality Programme, Midstream is helping to raise the bar across the game. From standards to sustainability, learn more about our work with the FIH in our new blog.
Answering your biggest questions about hockey lighting
Hockey clubs are switching to LED floodlighting – and not just to shave up to 50% off their energy bills. But how affordable are LED lights? What are the options? Can existing masts be used? Do facilities need re-wiring? We answer these and other practical questions from clubs.